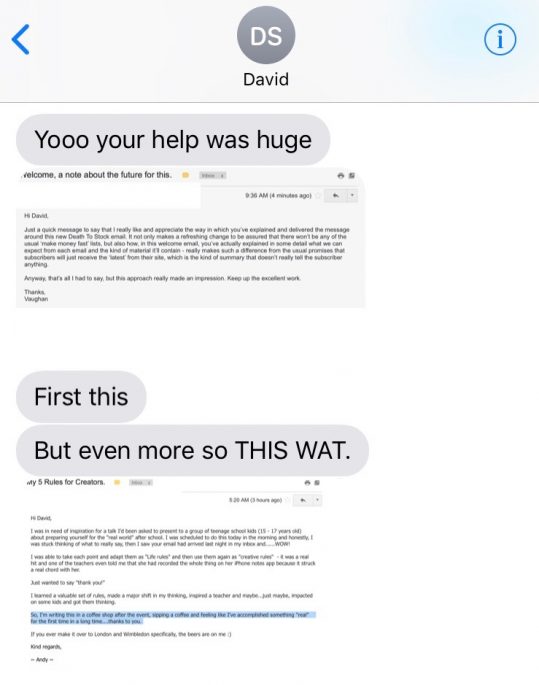 You have questions. I have answers.
Want a better customer onboarding flow? Need to talk through a new format for your newsletter? Want to know what to do with all of the people on your email list you have tagged based on their clicks? Trying to figure out how to get your podcast listeners to subscribe to your emails?
I happen to know a lot about:
Customer experience
List segmentation
Sequence flows
Opt in performance
Email deliverability
Content marketing
90s television
But more than anything, I have a magical ability to help people get unstuck.
And, with me, you aren't just going to get inspiration. You get action items. You know your next steps to take as soon as our call ends. You have your go-list. You're in motion.
Invest in more than inspiration. Click this button:
I'm an introvert so I'm not a huge fan of small talk. I want to get to know you but I really want to help you solve your marketing and email problems. So our call is 45-minutes and we'll dive right into the meat of it.
Here's how it works:
You click the button and book our call at a time that works for you. You also pay for the call to secure your time.
When you are checking out, there will be a brief questionnaire so I know what we're going to talk about. Fill that out.
At our scheduled time, we'll get on Zoom and talk (you'll get the link via email as part of booking). I'll come in with more questions for your questions and my questions will help answer your questions. And then you can ask more questions if you have them.
You'll get a recording of the call so you don't have to feel like you need to take notes the whole time (jotting down timestamps is my favorite way to remember which part to go back and listen to).
After the call you'll have your marching orders so you can get on with it.
Need more time later? Book another call!
Who am I for you to trust with solving your problems?
I've spent the last six years deep in the world of customer experience and research. I worked for an email marketing startup and have seen the insides of wildly successful (and majorly broken) email marketing accounts. I've written email sequences for onboarding, segmenting, webinar followups, product sales, and more. I built the content and email marketing for that same startup, wrote all around the Internet about what makes for good email, and I am an introvert who loves figuring out how people think. Like, I really love it.
I also spent over a decade behind the scenes of everything from non-profits to multi-six-figure businesses, and I have the innate ability to think big picture and minute details at the exact same time. While this drives my husband a bit crazy, it works out really well for growing software companies.
If you want to know how to propel your leadership and company, I suggest you work with Val immediately.
- Ryan Blanck, Deviate
Get out of overwhelm and into action today.