Everyone talks about how "systems can be sexy!" No. Systems aren't sexy…. like in the JLo's new movie kinda sexy way. But that doesn't mean they have to suck.
Systems can be overwhelming when there are too many in place. Overwhelming on the learning curve and also on the pocketbook – those $10 programs add up, huh?!
So I'm sharing my Top 5 basic non-sucky systems I would take to a desert island/grab in a fire/can't live without.
1) Google Docs – Free. It's actually called Google Drive now but it used to be called Google Docs and that's just stuck around for most people. So…. either way… if I am working with someone else on a document or want to be able to share it and constantly update it, it's created in Google Docs. I can build regular documents, spreadsheets, and even fillable forms in Google Docs. My favorite feature is the ability to revert to a previous version easily and see who made what changes and when. I could go on and on….
2) Asana – Free. Guys, if this is the first time you've heard me mention Asana then, hi, it's nice to meet you. We clearly haven't talked before since I bring up Asana on an almost daily basis. This is, hands down, the best project management tool that is completely FREE (there is a paid version but I have yet to meet anyone who uses it). You can quickly see what tasks you need to accomplish each day and share projects with other people. They even built a rad iPhone app this past year so you can tke a glance on the go. Brilliant.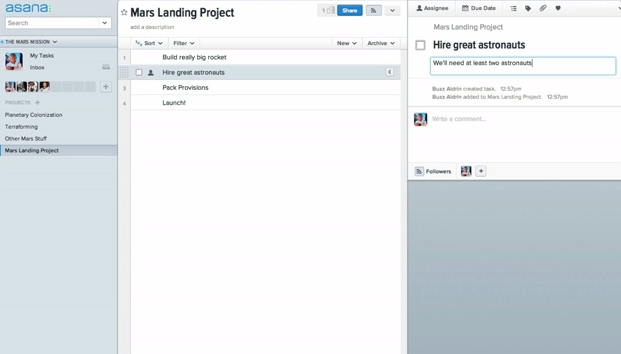 3) Typeform – Free. Again, you have a paid option on this one but Typeform's free options are so great I haven't had to pay for anything yet! Yep, you can certainly use Google Forms in the same way but I LOVE the beautiful design of Typeform's forms and being able to integrate it right into my website is a major branding plus. If you have an intake form, questionnaire, feedback form, contact form, or anything else you need filled out, give that task over to Typeform!
4) Analytics – Free. If you don't already have Google Analytics setup on your site, go do it right now. Click right here and set it up and then come back and keep reading. I'll wait. K, now that you are rockin' and rollin', you can track where your site visitors are coming from, what they pay attention to most on your site, and what days your site has had big spikes (or dips) in traffic. This. is. gold. Learning what your audience wants and pays attention to is crucial to your marketing plan. Your analytics will give you the foundation to dig into what you can provide more and more of over time.
5) SumoMe – Free. (surprise – they are all free!) From those geniuses over at AppSumo, SumoMe is a free WordPress plugin (with paid upgrades, of course) that helps you grow your website traffic and your community. You can add their list building tool, a text highlighter for social sharing (hint: you can highlight any sentence in this post to quickly share it on Twitter. Try it out!), a heat map to learn even more about where your audience goes on your site (see #4), and more. I feel like an infomercial when I say that but it's true. The capabilities of SumoMe at the free level are so high I will never be without it. I'm in Sumo Heaven.
And that's just the Top 5. There are actually so many more I use daily but we're here to simplify, right? And these 5 will get you feeling simple, savvy, and maybe a tiny bit sexy in no time.
So what are your Top 5? Comment below and tell us why they're in your Desert Island list.
xo