"You have to read this book. It will change everything for yoooouuuuuu!" – your exuberant fellow business owner
I, like many business owners, love a good book recommendation. Run into me in person and our conversation will most likely quickly devolve into "Have you read Essentialism? How about Yes Please? Oh, and of course How To Talk So Kids Will Listen…, it's useful even if you don't have kids."
Of course, like many business owners, I also have an incredibly finite amount of free time to sit around and leisurely read. I tried reading before bed but always fell asleep about 3 pages in (not a great way to actually finish a book). I tried reading in the morning before the day got started, but then I'd get really into a book and not want to put it down and actually, well, work. So I kinda stopped reading and the books piled up and I felt the shame of being "behind" on my book reading (as though there's a Master Book Reading Schedule somewhere).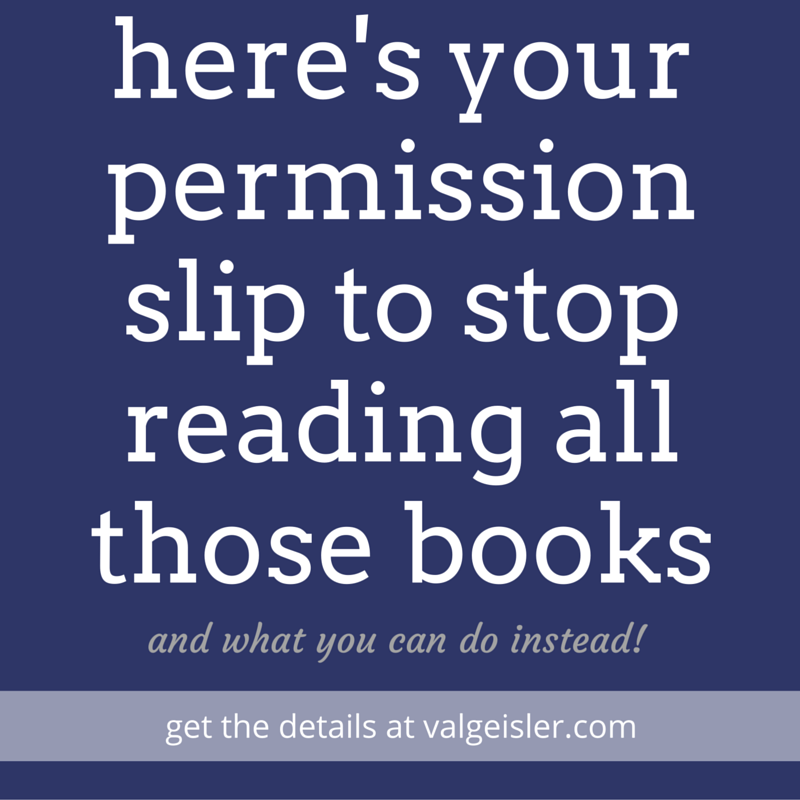 Then I caught the podcast bug.
Suddenly I was tearing through podcast after podcast, learning new skills, getting actionable advice, and laughing my ass off. I was hooked to having little voices in my ears making my days more productive and joyful. And I was especially hooked on the number of places I could consume podcasts. I mean, I can listen to a podcast while I:
Drive my daughter to and from daycare

Lift weights

Wash dishes

Sweep the kitchen floor

Clean the bathroom

Dust

(I actually dust now!)

Walk the dog

Do laundry

Run errands around town
To paraphrase Dr. Seuss:

I can listen in a house,
I can listen with my spouse.
I can listen here or there.
I can listen anywhere!
I was so head-over-heels in love with podcasts that I completely forgot about my pile of books. Then one day while listening to an episode and dusting my bookshelf full of unreads, it dawned on me:
You can listen to books!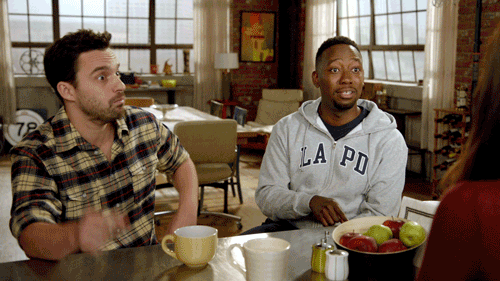 Look, I know it might not be revolutionary to you but this was a total mind blowing moment for me. I grew up in the "books on tape" era and remember heading to the library and checking out the 32-tape set of Lord of the Rings for a long road trip to Grand Rapids, Minnesota one summer. To listen to in my tape deck. Because my car had one of those things.
So when I had my epiphany it was my own personal Back to the Future. Books on tape were now all on one beautiful, easy to navigate site called Audible. Better yet, Audible is owned by Amazon so logging in was easy and the interface felt super familiar.
*facepalm*
I started downloading books the same day.
Now, podcasts and I are still BFFs but the relationship I have budding here with Audible is one romance that just can't be denied. I'm "reading" all the books I've had on my list for way too long now and feeling incredibly connected to the author as a bit of a bonus. There's just something really intimate about the audio format right in my earbuds.
Before you run off and madly download your own set of must-read books, here's a few tips from yours truly to make the most of your experience:
Follow your typical genre interests to start. You might be tempted to branch out of your comfort zone with this new delivery method but sticking to your tried and trues give you a sense of familiarity as you get used to audiobooks.
Try to find books read by the author. This is extra important if the books you are consuming are non-fiction and you've seen a talk done by the author (ahem, Brene Brown). Trying to listen to someone's written words read aloud by another person is jarring if you're familiar with the author's voice.
Listen on 1.25x speed. Most authors read their books quite slowly. It's a good tip when you want to be heard, but I find it's almost harder to keep up with the content when it's a slower pace. So I listen to most of my books on 1.25x speed. In the Audible app, there's a little button (shown below) where you can change the speed of the playback. I typically stick with 1.25x speed but you can go as fast as 3x speed but I have no idea when that would ever be a good idea. Play around with the right speed for you and for each book you listen to!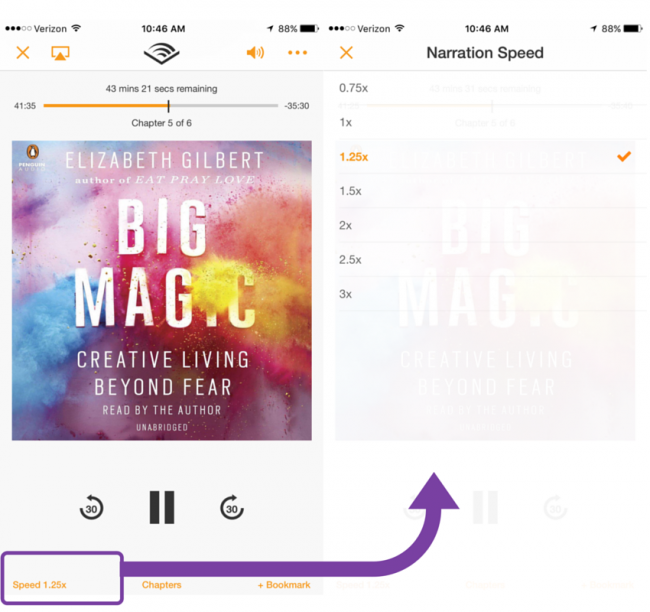 Want to finally finish all of those books you've really been meaning to get around to? Audible is your answer…. and now you can get a free 30 day trial by heading to Audible via this link and starting your audiobook adventure.*
Of course, what's a post about books without a few of my favorite, right? Here's what's in my Audible account right now: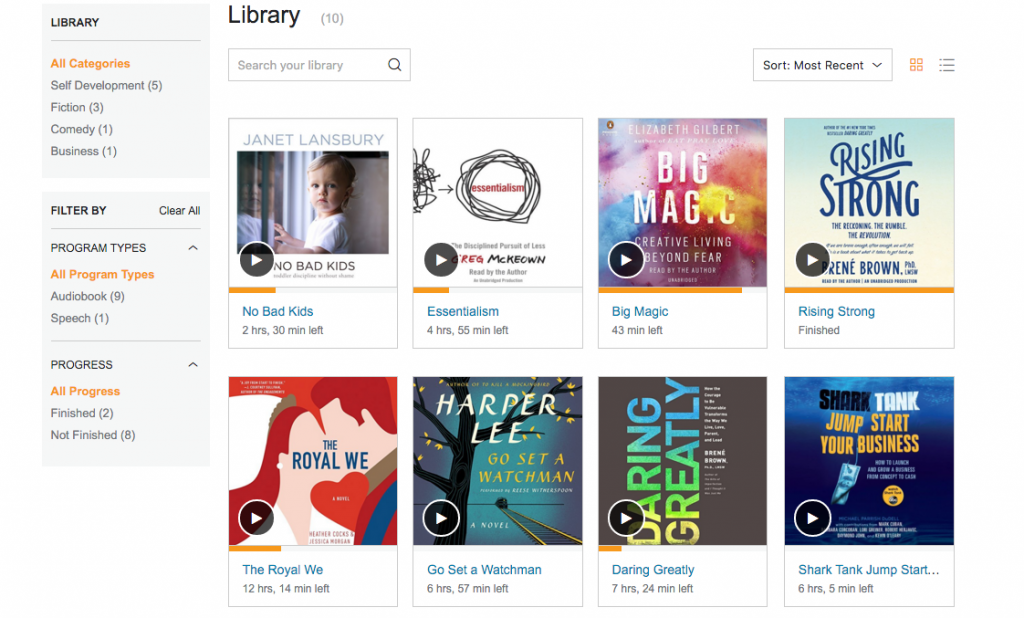 Now go finish your own stack of books on Audible so we can exchange notes next time we're in the same place. I can't wait to hear** what you think!
---
*This post is part of a series that details my absolute favorite systems and tools for your badass business. Today's post is in partnership with Audible.com and I may profit from you using the affiliate links above. Thank you so much for supporting the brands that make this series possible!

**Pun definitely intended.