Over the years, I've played around with nearly every social media game plan.
Schedule directly inside Facebook = too distracting
Hootsuite = links were dropped (much too consistently for my liking)
Edgar = a great option if my library of content were MUCH bigger
Not scheduling anything = no regular engagement and zero growth (sad face emoji)
Sprout Social = awesome reporting but more than this solopreneur needed
Hiring a social media manager = felt disconnected from what was happening with my accounts
And while I'm more than positive that there are examples of where all of the above has worked really well for someone, none of them were working for ME. And if it's not working for me, it's probably not working for someone else, amIright?!
After a few stints on the free Buffer plan, I found myself wondering if there is actually anything out there that will work for what I need.
Turns out all I had to do was upgrade my Buffer to Awesome and my social media world is just that. Awesome.
(I want to take a second here to tell you that this post is not sponsored by Buffer, nor are the links affiliate links. I love Buffer so much that I had to make this for you, paid or not.)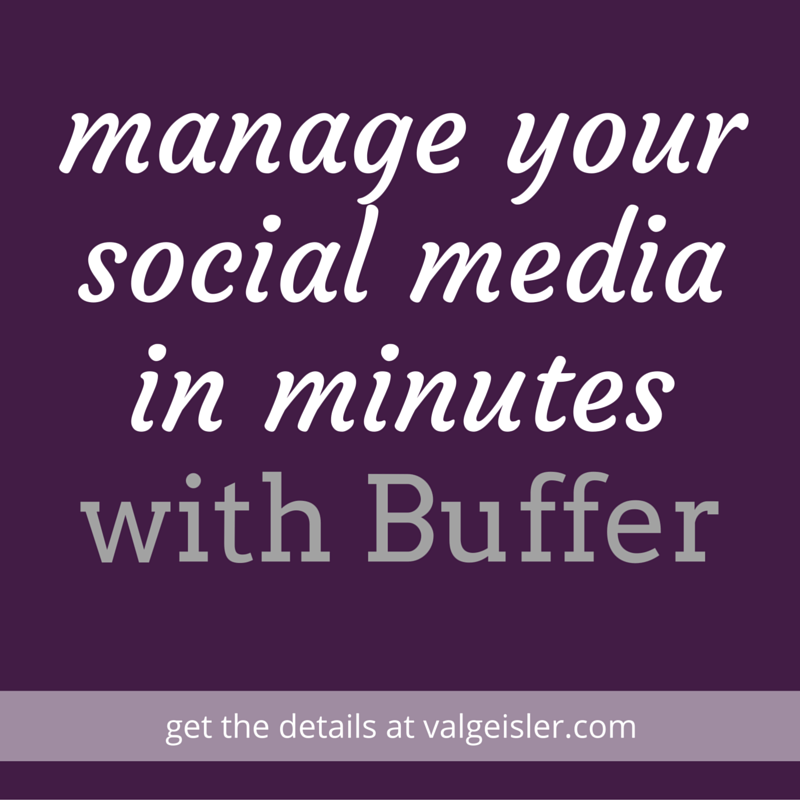 Here's how my social media scheduling story went:
Start using Buffer free account. Load queue with posts and schedule times. Go in two days later to re-up my queue (since the number of scheduled posts is limited in the free account). Forget to go in, ignore the emails from Buffer reminding me, get frustrated with the whole experience. Give up. Consider just quitting social media altogether.
Sound familiar?
One day I had the thought: "What if I just commit the $100 to my social media success for the entire year and upgrade my Buffer account?" It felt like a no-brainer once I realized it was going to cost me right around $10/month for so much more.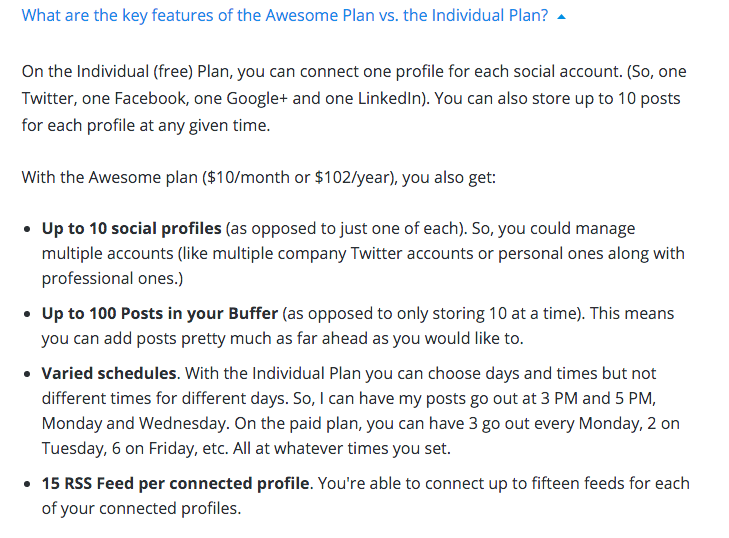 So, yeah. Awesome.
Once I was upgraded, a whole world of Social Media Made Simple was opened up to me. Honestly, until I did the upgrade, I wondered if there was a tool out there that really worked for social media scheduling. With Awesome, I feel like I struck gold.
Here's your treasure map to find the gold too.
In Buffer I can add my social media accounts (I have Twitter, Facebook, and LinkedIn there) and start scheduling posts instantly. All I have to do is set my schedule like this: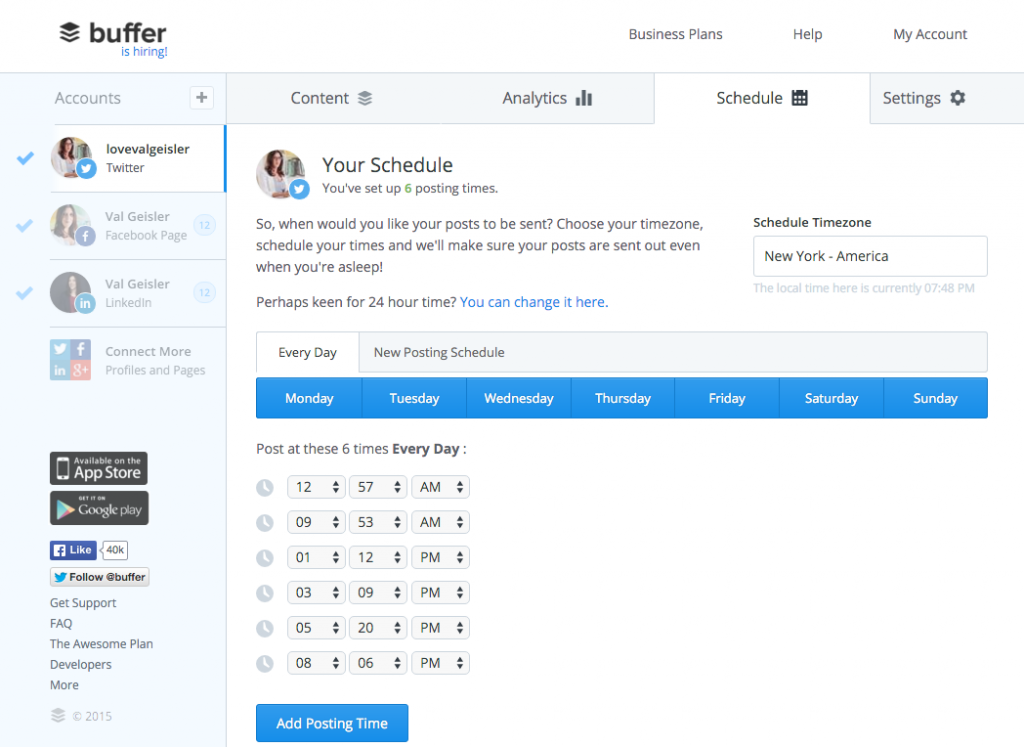 …and then add my posts right into their little "What do you want to share?" box on the Content page like this:
Since Buffer knows how crucial it is to have customized content and schedules for each platform, you get to setup each one individually (or you have the option to add the same content to more than one platform at a time if you choose). My Twitter schedule is above but my Facebook schedule is quite different: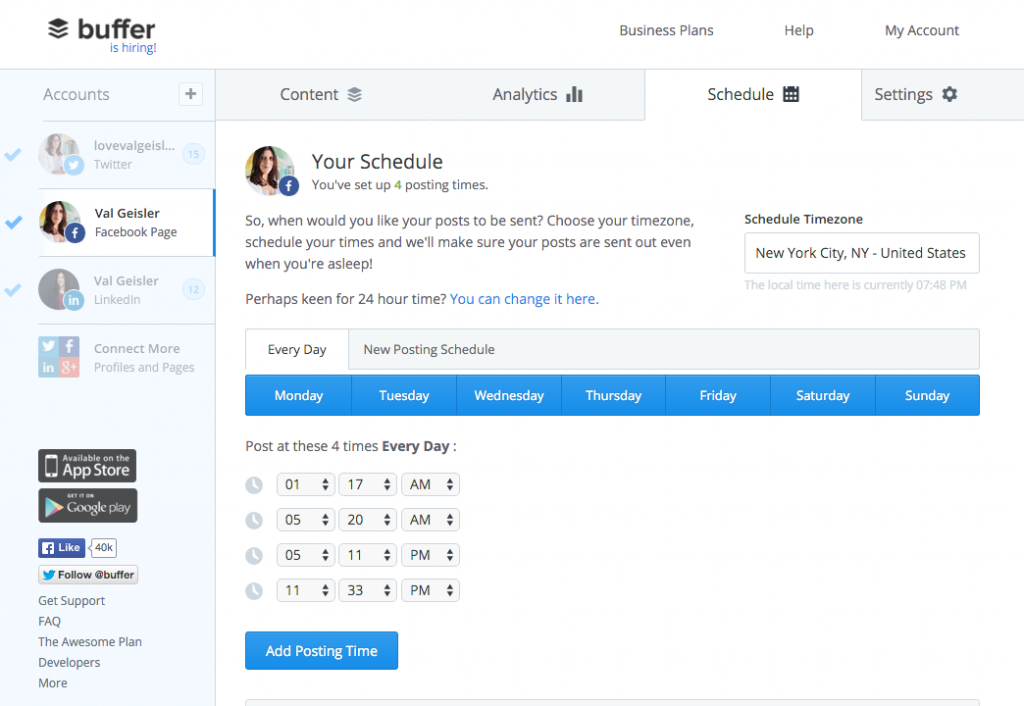 But what if you don't even know when to schedule all of these posts?
Not sure when your audience is online and active? Buffer knows! Better yet, they'll tell you with their Optimal Timing Tool inside every Awesome account.
And it's not just the schedule that can vary from platform to platform… the content can be too (which, btw, I highly recommend). Check out those longer posts with images just for Facebook!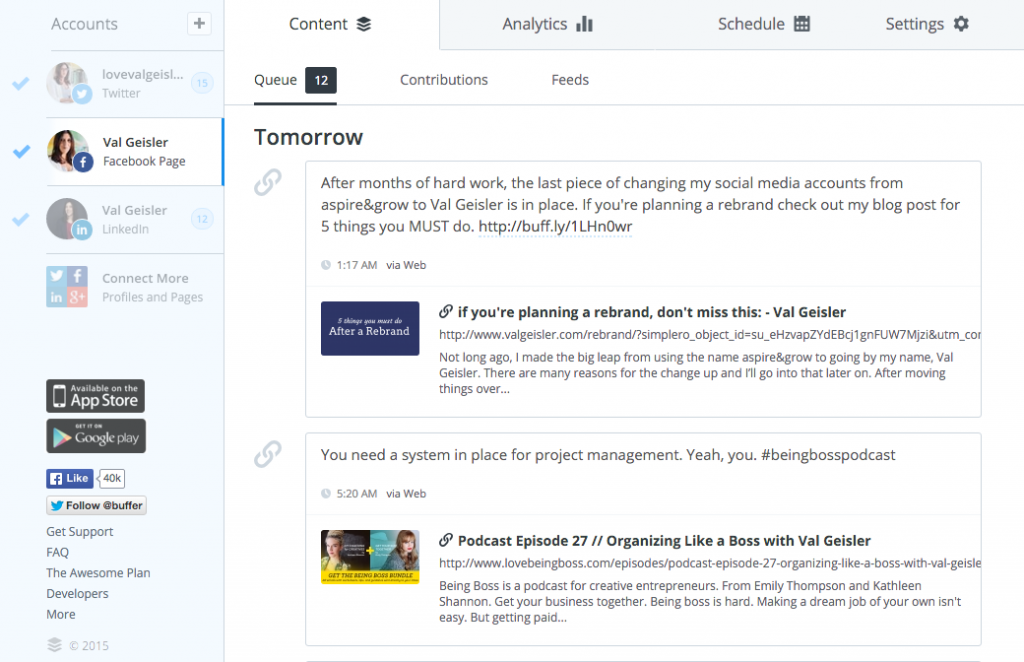 So schedules and individual queues are fun and all but that's not where it ends with Buffer. With the Awesome plan, I now have detailed analytics. Like this: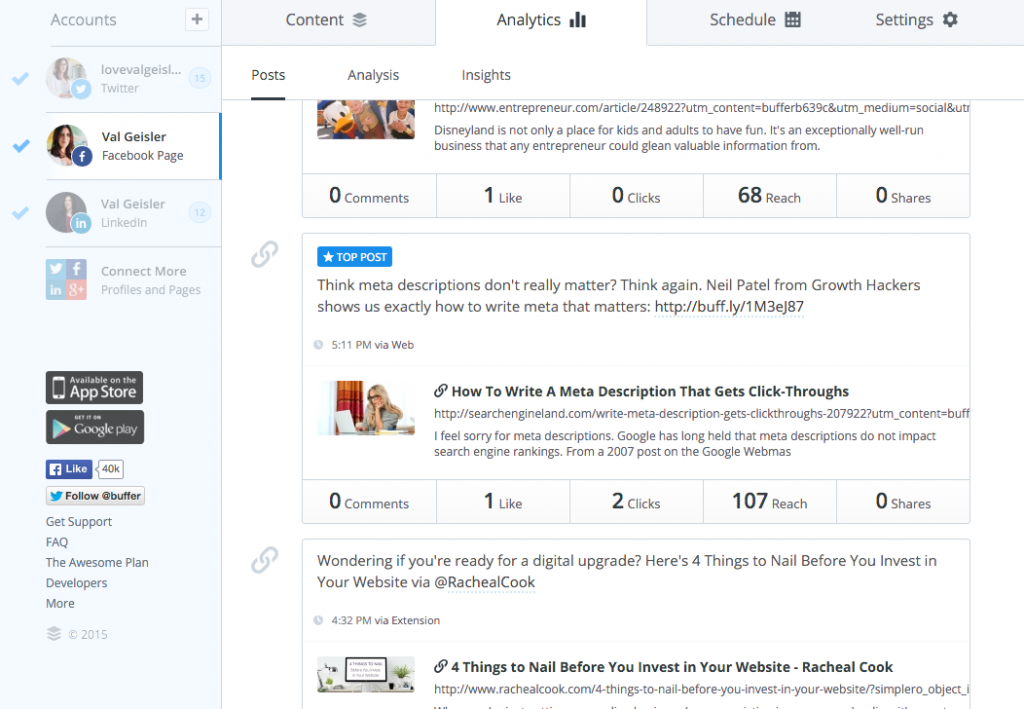 See that? I can tell how many comments, likes, clicks, and shares are on each post and what the total potential reach was for that post. Fun, right?!
And now I am gonna channel Bob Barker here because…
BUT WAIT. THERE'S MORE!

See that "Re-Buffer" button over there on the right? If I want to add this post back into my queue, it's just a quick click of that button to make it happen.
And my analytics show me basically everything:
most popular
least popular
details of popularity based on likes, clicks, shares, retweets, reach, and comments
the ability to sort by date
export to CSV
So if I don't have a full 15 minutes but have about 5 minutes, I can hop into my analytics, grab my most and least popular posts, re-buffer them, and then go on with my day knowing I'm covered on the social media front.
Buffer is great for scheduling and sharing my own stuff, but social media isn't just all about ME (no matter what the Selfie Craze says). In order to run effective and community-driven social media campaigns, it's important to share other people's content. It's not only important, I just like doing it. With Buffer, I have two ways to do exactly that:
Way #1
THE BUFFER EXTENSION FOR CHROME
If you've been around here for a while, you know I'm pretty into my Chrome extensions. And Buffer is my most used extension by far. When I'm reading a blog post I just love and want to share, I simply click the little button at the top of my browser and a little box pops up allowing me to edit the post before it heads into my queue.
Buffer pulls the headline but I can make any changes I want before I hit the "Add to Queue" button.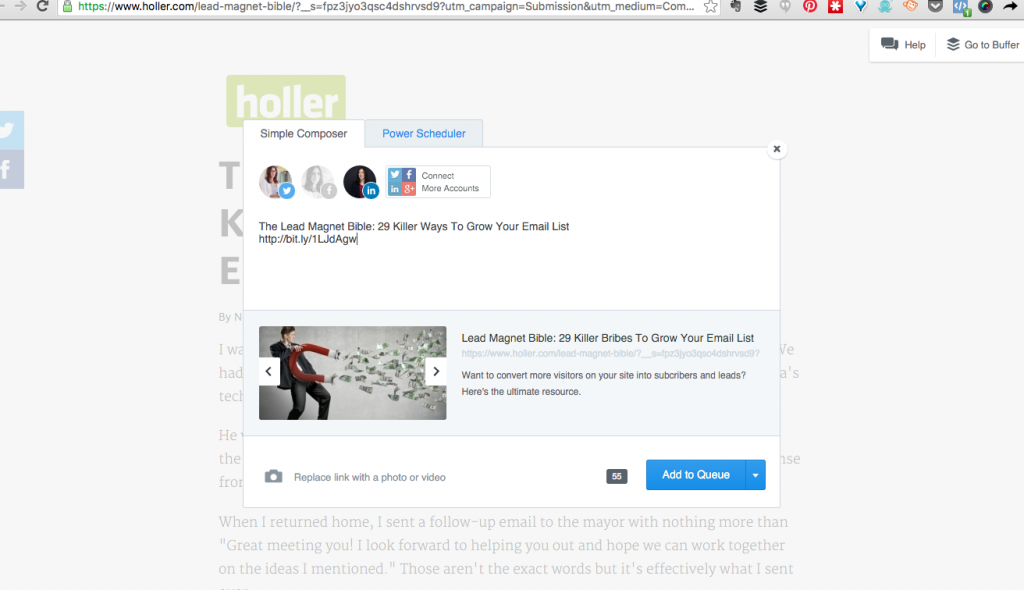 There's also a "Power Scheduler" option on the extension. See it on that second tab above? With the Power Scheduler, I can schedule specific days and times for Buffer to send out that post. I use this one if I know something is time sensitive (like a cool program that's selling out soon or a course that starts on Monday) and it looks like this: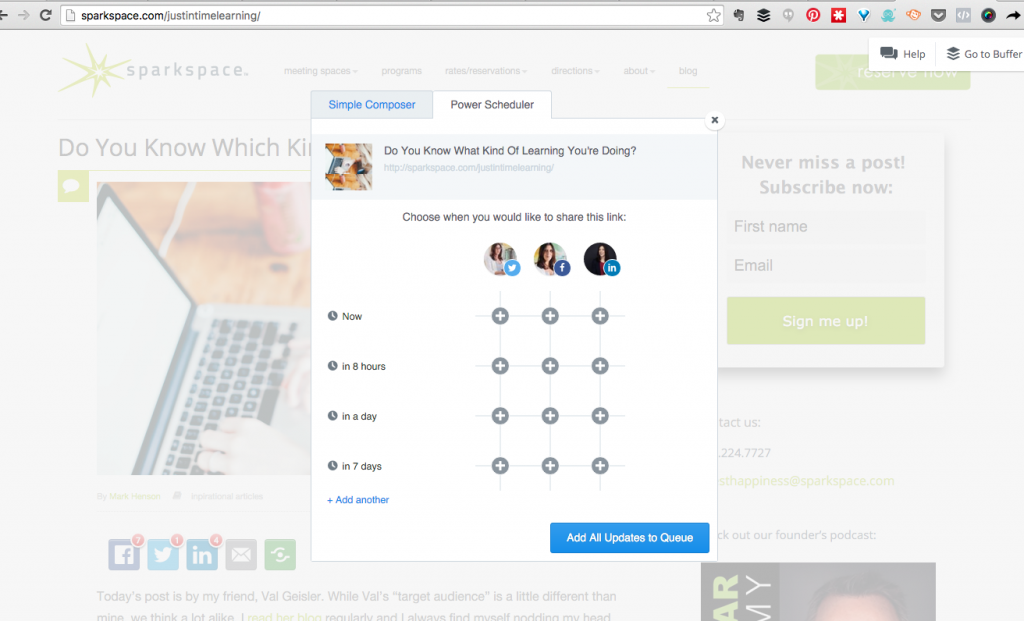 All I have to do at that point is click the little plus button and it adds the post to the appropriate channel at the set time.
Way #2
FEED AGGREGATION
Oh, this is just my favorite part of Buffer. Check it out: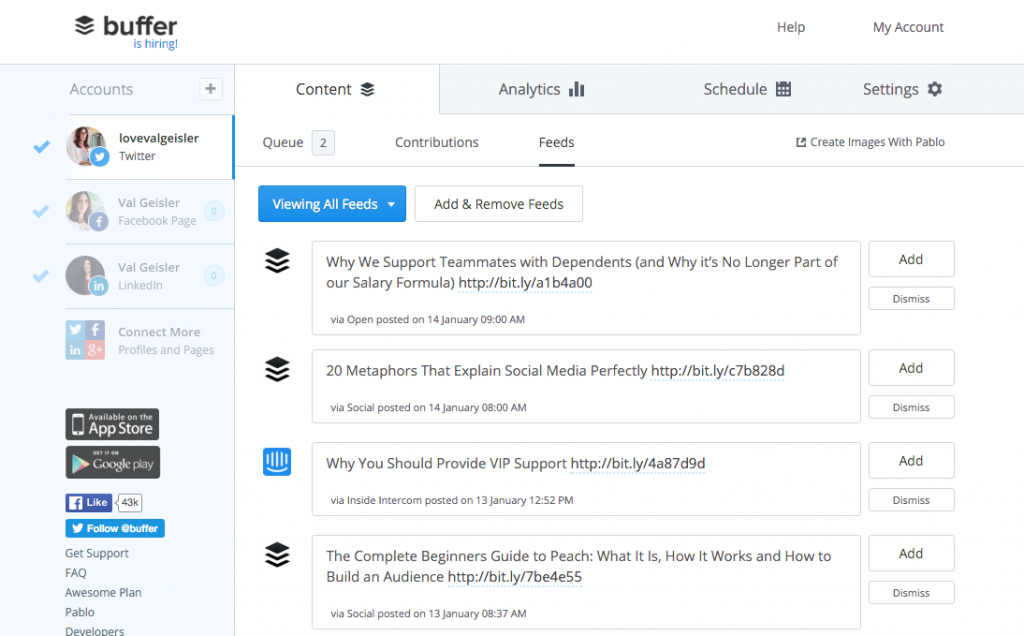 Inside the Content page, there's a tab for Feeds. Click on that and you can add and remove feeds (typically RSS feeds of blogs) to be collected here inside Buffer. I used to use Feedly and then copy/paste (which is fine but time consuming). Now it's Buffer to the rescue. I've added a few of my favorite feeds – including Buffer's blog, obvi! –  and can quickly add the content to my Buffer queue with just the click of a button.
I've even saved the RSS Feed for ConvertKit's blog (which I run now, btw), to make sharing all of my writing even easier.
Like I said, GOLD.
Look: social media is one of the biggest factors for overwhelm with my clients and in the communities I am part of. I've experienced it first hand both for my own business and for my clients. And, ya know what? It doesn't have to be so hard.
Are you using Buffer? What's your favorite feature? I'd love to turn the comments below into a love letter to BufferHQ. Can you help? Chime in with your #1 love.
And for further reading on making social media a little easier to handle, check out these two posts:
The Introvert's Guide to Twitter
7 Don'ts of Facebook Groups
If you liked that article...
You might like to learn about even more tools + resources
that make business and life simple.
Enter your email address below to get them delivered straight to your inbox.