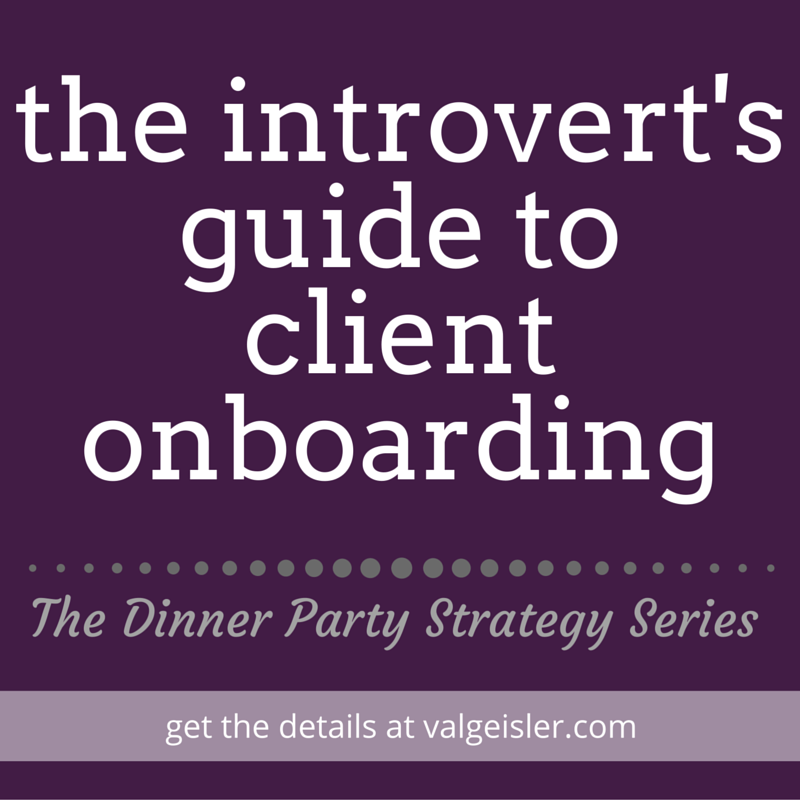 There's a funny thing that happens when you are a kind and friendly person and then mention something about being an Introvert.
"You? No way! But you're always so welcoming and talk to people."
Yeah. And then I shut myself away for hours on end to recover. Sure, I know that talking to and being around other people is part of life as a human being and especially as a business owner, but I have my world setup to support the fact that I need some hard core Me Time every single day. (Can someone please tell my toddler that? I'd really appreciate it. kthanksbye)
So when I sat down to write out the Behind The Scenes of my own client onboarding experience – the very steps and systems I use in my own business – it seemed fitting to dub it The Introvert's Guide to Client Onboarding. Because, well, hi.
This guide will walk you through the steps I take to carry out Days 1-5 of The Dinner Party Strategy™. If you missed those, they are:
Day 1: From Consult to Client
Worksheet: Building Your Dinner Party Strategy Foundation
Day 2: Are You Making It Easy To Get Paid?
Day 3: Why You Need An Online Scheduler
Worksheet: Terms And Conditions Swipe Copy
Day 4: How To Roll Out The Red Carpet In Two Steps
Worksheet: Non-Sleazy Testimonial Gathering Swipe Copy
Day 5: Wrapping It Up With a Bow
Before we dive in, please know that some of the links below may be affiliate links but also know that I'm only an affiliate if I really believe in something. Like really. But if you don't wanna use them you can always just Google the product name and grab a fresh link. No hurt feelings! 
Consult to Client
Acuity, Acuity, Acuity. I know I sound like a broken record over here but Acuity Scheduling is my everything. Recently, I tried scheduling a few appointments without Acuity and it was a disaster. Wrong time zone? Check. Double booked myself? Check. Back to back appointments with no time to even pee in between? Check. So I stick with Acuity. And you should too.
When I'm contacted for 1×1 work, I'm occasionally asked for a 15 minute call to make sure we're the right fit for each other. Happily, I send that prospect my scheduling link for a quick call. They pick a time that works for them, Acuity sends them a few preliminary questions, and then a reminder about the call with all the call in details. My inbox stays free and clear and they have everything they need. An introvert's dream, really.
I use Uberconference for my calls right now but it's not been the most reliable lately so I'm exploring my options. If a client requests it, I'll get on Skype but, ya know, introvert. So I prefer calls over Skype. Plus, I truly believe people are more open when they aren't worried about how they look or making eye contact in that tiny camera.
I Make It Easy To Get Paid
Again, Acuity Scheduling to the rescue. My 1×1 clients all book and pay with Acuity (Acuity conveniently allows them to connect with their Stripe or PayPal accounts) and it's a one and done kinda thing.
Less steps make an introvert very happy.
My Online Scheduler
Ummmmmmm Acuity.
Moving forward.
Rolling Out The Red Carpet
This is a simple two step process. While those happy 1×1 clients are booking their appointment, there's a little checkbox that looks like this:

Which directs them to my Terms and Conditions page to check those babies out and agree.
And then they become clients (woo-hoo!) and I get them all setup in Asana. In fact, I hacked this process a bit with my pal Zapier. Here's how it goes:
Client books first call, pays, and agrees to terms and conditions in Acuity.
Acuity tells Zapier to setup a New Client project in Asana (courtesy of a template I have in place there).
Then I do have to manually go in and invite that client to the project but then they get all of this: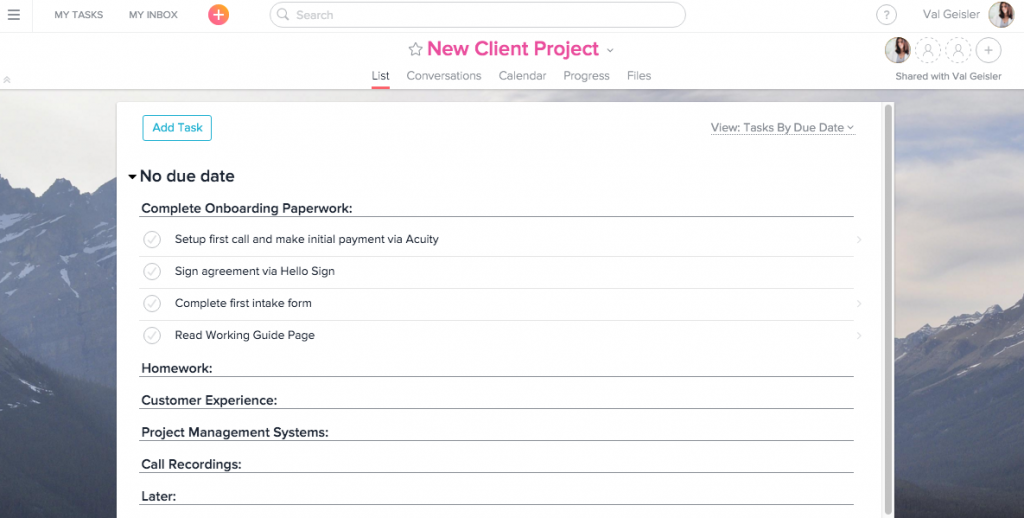 See that checklist? It's all assigned to the client and they get to check off the tasks they've accomplished. That "Read Working Guide Page" links to the webpage where my Welcome Kit is housed.
Easy peasy. And we're off without a hitch!
Wrapping It Up With a Bow
When all is said and done, we've had our final call and it's time to part ways, my 1×1 clients get two things from me.
1) A request for testimonial and feedback all rolled into one. I link them up to a Typeform survey with my questions right there. It's painless and I even include lots of multiple choice options so they don't have to spend a lot of time on it.
2) A direct request for a referral. I typically ask them while we're wrapping up that final call or I'll follow up with an email a week or so later. Since I use Streak in my GMail inbox to keep track of everyone's comings and goings, I just tag that client with a note to follow up on referrals a few weeks later and Streak hits me up when the time is right.
If I'm being really honest with you (and I am), this is the hardest part. It's an introvert's nightmare to ask someone to tell you what they think of you AND to then ask them to tell other people that they should work with you. Ugh. But, ya know what? When I do it, it's oh so awesome.
Find yourself in feast or famine mode? Always wondering when the next client is going to come rolling in? Don't skip this step! Testimonials and referrals are the key to happy and thriving businesses and sane business owners.
If you cover all five parts of The Dinner Party Strategy in your own business, you're sure to wow your clients, grow your business, and get all of the quiet time alone with your book you could ever dream of as you sit back, relax, and let the strategy go to work for you.
Tell me in the comments below (it's okay – go public! Let's change the face of Introverted Business Owners right here and right now).