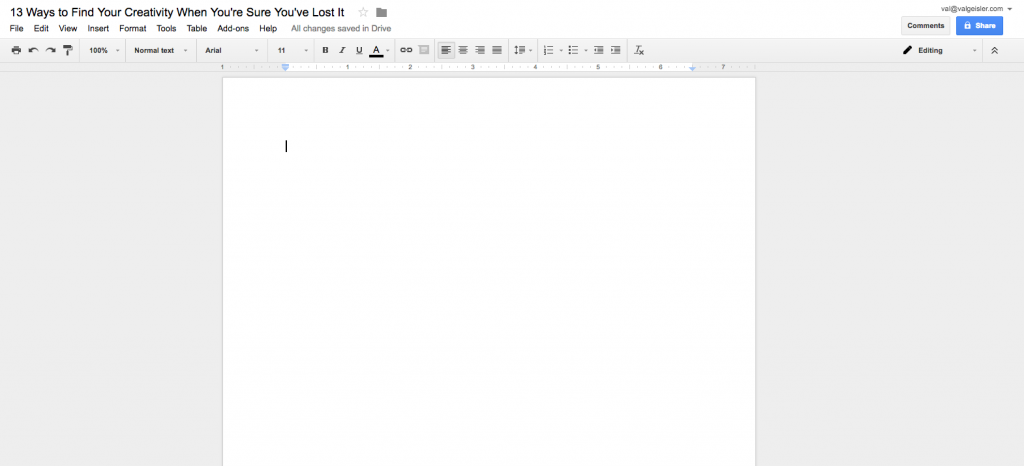 Oh, the dreaded blank page. So much potential. So much…. intimidation. Wouldn't it be nice if the words could just start flowing, if the design just came on it's own, if the color palette fell together with no effort at all?
Well, I suppose if all those things DID happen, more creatives would be out of work. Who needs to hire a copywriter if your headlines just write themselves?!
Luckily for us, that creative block is real and it keeps us employed. Unluckily for us, that same creative block hits us too.
Over the years (and especially the last year as I've worked full time for ConvertKit while running this business), I've figured out a few tricks to get that blinking cursor to calm down and help my creative juices flowing when they're feeling more like a dried up piece of orange peel on the floor of my car. And now they're here for you! If you're fighting creative blocks left and right, here's 13 ways you can get around them once and for all:
Just start.


When your to do list is long and your ideas are short, it can be easy to sink into a pit of despair. But just like anyone who's ever sunk into a pit knows, you can only get out by putting one step in front of the other. So start. If your task is writing, write something, anything! Write about your breakfast that morning or write out your big ol' list of things to get done. And then keep writing. I kid you not that just starting is exactly how this very blog post was written.

Step away.
Staring at your paintbrushes or keyboard or stack of papers to grade isn't going to get it done. Ask your eyes to give your brain a break and step away from your work. Walk around the house, read a chapter of a book, look at Pinterest for 10 minutes…. whatever you have to do to get away from the work. See what happens when you turn off the need to do something and get a fresh perspective.
Go analog.
When was the last time you designed a logo by hand? Or wrote a blog post out in cursive? It might seem like it will take longer (and it might) and your list of things to accomplish is oh-so-long (I know) but when you just can't find your creativity, get analog for a bit. Write a letter to your favorite aunt, sketch in a sketchbook, practice your hand lettering. Going analog is another way to turn your brain away from those pesky bright computer screens that zap our energy and allow us to be our true creative selves.
Nourish yourself.
When's the last time you ate something that didn't come in a box or drank some plain ol' water? Grab a glass and something fresh and nourish your body however you see fit. Junk food just junks up your creativity so keep it real and whole and get back to work!
Tune in.
Not to yourself, though…. to something else! Pop on a podcast, hit up a relaxing Spotify channel, or listen to one of the many audio files you've downloaded and never hit play on. Turning your brain inward and focusing on the auditory sense might just help your sense of touch, sight, and smell wake up too.
Get outside.
Sitting at my desk typing away, I am looking at two windows to the outside world. And staring out an open window is nice and all, but actually taking my entire body outside does wonders for my creativity! In fact, the Scandinavian people make it a point to get outside for 20 minutes every single day (no matter how cold) and they're the happiest people in the world so…. Get your daily Vitamin D on and see if a little fresh air helps wake up your creative spirit.
Talk it out.
This one's especially useful if you're a writer by trade or maybe simply trying to write a blog post, your upcoming podcast episode, or your sales page. If typing has you stuck, grab your phone or other audio recording device and talk it out. Walk around, lay down on the sofa, sit in your favorite comfy chair with a cup of tea. Whatever you do, just talk into the recorder about your big ideas. You can try talk-to-text (and then clean up the mistakes manually) or you can go straight audio and hire a transcriptionist to get it all typed out for you. Believe me, this one totally works and is worth it every single time.
Create something else.
Stuck on the new recipe you're creating? Go build something with your kid's blocks. Course copy have you stumped? Snag your adult coloring book and go to town. Doing something creative but unrelated to your project at hand can be just the ticket to calling your muse closer and tricking her into sticking around.
Play.
Have you played lately? Throw a ball with your dog, run on the playground with your kiddo, or get some friends together to throw around a basketball. Play a game of some kind and let your brain (and creativity) reset.
Take a nap.
Who hasn't worked on a deadline before? The call it a DEADline for a reason – because you'll be dead if you kick your own ass to meet it. Okay, maybe that's not the real definition but it certainly feels like it when you're burning the candle at both ends. A 20 minute snooze is going to make you infinitely more productive than staring bleary eyed at your lack of work thus far. So rest up, just don't turn it into an all-day affair with your queen size bed.
Mastermind it.
I've mentioned the power of masterminds before and I'll say it again. Find some buddies who you connect with over business, babies, puppies, or books and lean into them when you're feeling stuck. Your mastermind friends will know you and your work well enough after a short period of time to give you honest feedback when you need it the most. And sometimes that's just what our creative blocks need to hear to get out of our way.
Work somewhere new.
Hi. I'm an introvert. And I love my little home office with it's quiet and it's snacks close by and it's perfect little setup. But when I can't wrap my head around a project, I snag my laptop and head to a new location – the kitchen table, my back porch, or even a coffee shop. Finding a new point of view (literally) can be just what you need to get back to work.
Love the process.
When we fight against our creative blocks, they fight back hard. Unfortunately, they're often stronger than we are and they win. If you find yourself fighting and none of these other tips are working, try going deeper into the work and love the process. Elizabeth Gilbert suggests talking to your blocks (which, by the way, are often just fear in disguise). She says that if you give them some personification and talk to them, tell them you're grateful they exist but that they aren't needed in this process right now, they might just go away a bit easier. So give it a try! Turn on some lovingkindness for yourself and your blocks when all else fails.
Now you've officially hit the "no excuses" zone. Your creative blocks won't break themselves down just by willing them to do so. You've gotta do the same thing you do every day as the boss of your biz – take control, see the big picture, and get into action!

What's your favorite way to release your creative blocks? Tell me in the comments below so we can keep building this list together!